Our President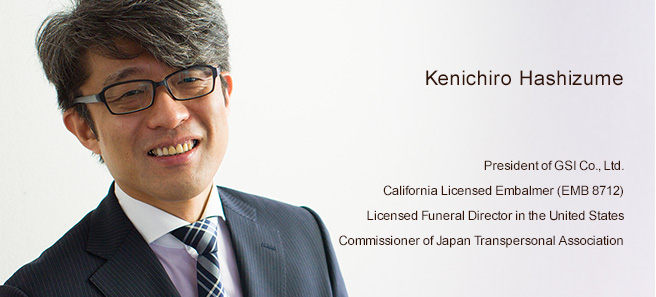 Ken went to the United states during 1994 to 2001 to study embalming and funeral direction. After he graduated from The Pittsburgh Institute of Mortuary Science, he became a licensed funeral director. Ken also has a master's degree in grief care in John F Kennedy University. After he experienced a two-year internship in the U.S., he became a California Licensed Embalmer. He came back to Japan in 2001, and he has dedicated to training embalmers and consulting funeral-related companies since then. He is a pioneer in the education of grief support and embalming in Japan as he has practical experiences and knowledge in funeral service.
Principles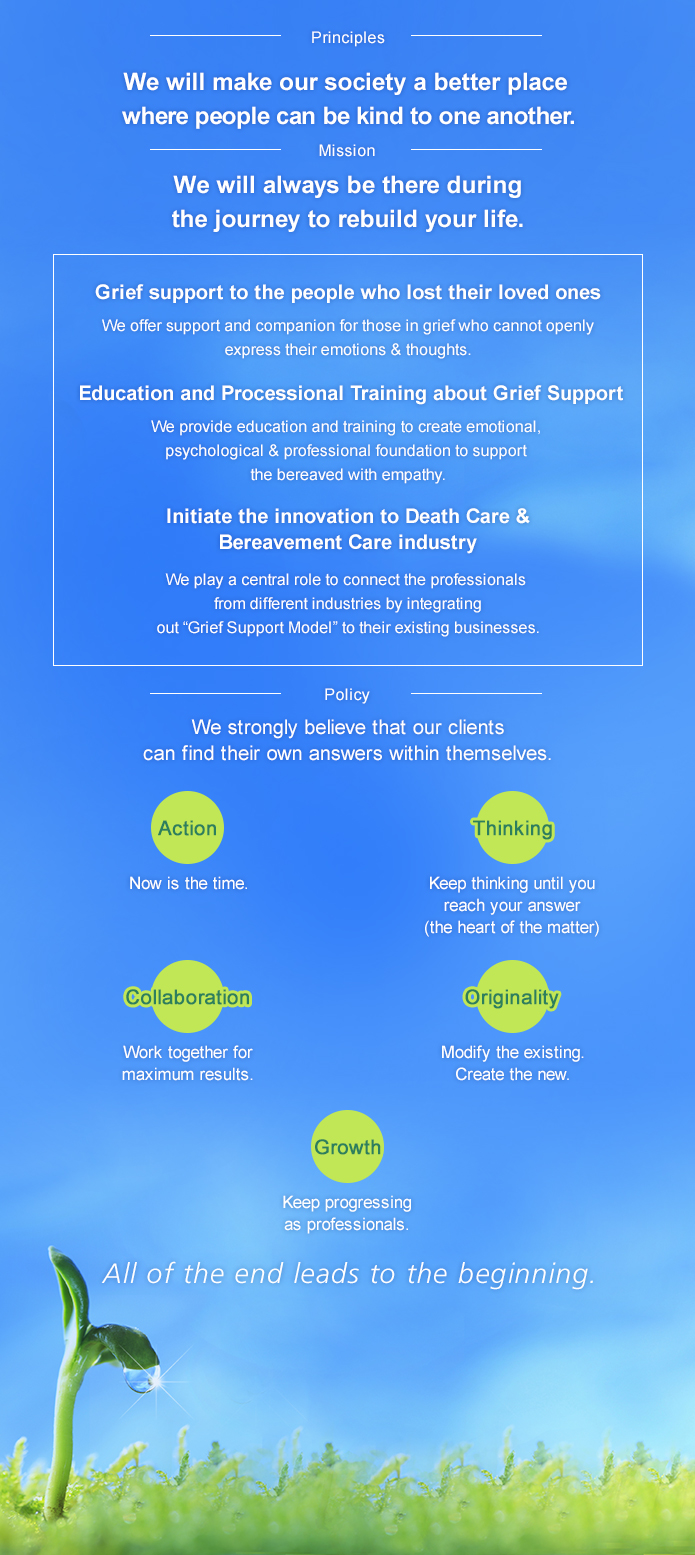 Company Profile
Name
GSI Co.,Ltd. / 株式会社ジーエスアイ
Head Office Address
8-2 Nihonbashi Koami-cho,
Chuo-ku, Tokyo 103-0016, JAPAN
Main Office
1-21-1 Shinkawa, Kayabacho Tower Residences #1806,
Chuo-ku, Tokyo 104-0033, JAPAN

Access
・Tokyo Metro Hibiya Line [H]: Kayabacho Sta. [H13] 4b Exit (6 min. on foot)
・Tokyo Metro Tozai Line [T]: Kayabacho Sta. [T11] 4b Exit (6 min. on foot)
・Tokyo Metro Hanzomon Line [Z]: Suitengu-mae Sta. [Z10] 2 Exit (8 min. on foot)


Telephone
03-6280-3480 (Open hours: weekday 10am ~ 6pm EST +9)
Established
January 23rd. 2004
Board
President  Kenichiro Hashizume / 橋爪 謙一郎
Chief Director  Kiyomi Hashizume / 橋爪 清美
Work Force
8(as of Nov. 2015)
Our Business
Grief Support Business:
Education and training to cultivate persons involved in grief support;
Education, Cultivation and Certification of Grief Support Buddy;
Grief Support for the bereaved;
Seminars and Publication about Grief Support.

Embalming Business:
Embalming, Repairing, Make up;
Building, operation, and Management of Embalming Center;
Training Embalmers;
Education and Training related Facility Owners;
Creating Required Papers and Application for Overseas Transport.